Most Recent Post
*This blog was originally published on Nov. 7, 2017.
As a teacher using Fountas & Pinnell Classroom™ (FPC) you may have been hearing over and over: in order to use the materials as effectively as possible, you need to use The Literacy Continuum to shape the suggested lesson for the learning needs of your particular students. This valuable tool enables you to adjust,...Read more »

Featured Resource
Fountas & Pinnell Webinar: 10 Tips for Powerful Teaching in Guided Reading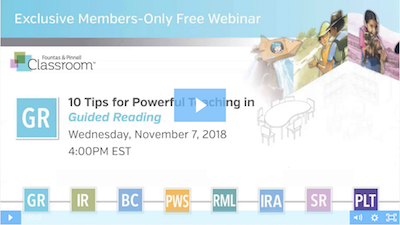 We believe that well-planned and organized explicit teaching of language principles is critical, but that effective lessons must also contain an element of inquiry.