Intervention FAQs
What is LLI?
The Fountas & Pinnell Leveled Literacy Intervention System (LLI) is a short-term, supplementary intervention system proven to improve literacy achievement of struggling readers in grades K through 5+ with engaging leveled books and fast-paced systematically designed lessons.
Who is LLI for?
The LLI systems are designed to be used with small groups of students who need intensive support to achieve grade level competencies in grades K through 5+. It also provides strong support for students who are acquiring English as an additional language and are receiving classroom reading instruction in English. You may also decide to include students who are identified as having special needs if the content of LLI meets the educational program specifications for the student.
Which LLI system should I use?
There are six systems that make up LLI and span grades K through 5+.
Primary Systems:
Orange System + Orange Booster: levels A through E
Green System + Green Booster: levels A through K
Blue System: levels C through N
Intermediate Systems:
Red System: levels L through Q
Gold System: levels O through T
Middle/High School Systems:
Purple System: levels R through W
There are specific Lesson Guides for each LLI System, and the systems are coordinated with the grade levels at which they will most likely be used; however, educators may make other decisions as they work to match the program to the needs of particular readers. The systems overlap in levels, but books and lessons for each system are unique, with no overlap of titles or lessons.
The LLI books have been written specifically for the intervention system. Written by children's authors and illustrated by high-quality artists, they are designed to provide engaging, age-appropriate material while at the same time offering increasingly sophisticated learning opportunities so that students can build a reading process over time.
How do I find the instructional reading levels of the lowest-achieving students to know where to place children in LLI?
We recommend using the Fountas & Pinnell Benchmark Assessment Systems (BAS) to determine the instructional level of your students. Both the Fountas & Pinnell Benchmark Assessment Systems and Leveled Literacy Intervention are based on the Fountas & Pinnell Text Level Gradient™, which is correlated to grade level. The Fountas & Pinnell Benchmark Assessment System provides critical information on a child's reading strengths and needs in the areas of processing strategies, comprehension, and fluency.
What are the components of LLI?
Click here to view Components Chart
LLI Components Chart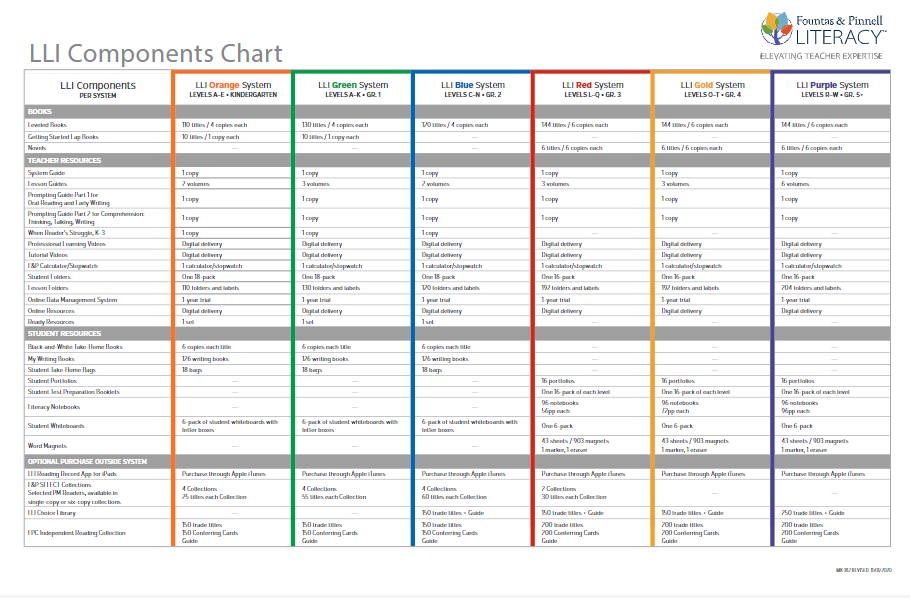 This chart lists which components are available in each LLI System.
How long is LLI?
LLI is a short-term program designed to bring children up to grade-level performance:
Instructional Features of the LLI Systems
LLI Primary systems 12–18 weeks of explicit, direct instruction 30-minutes a day, 5 days a week. Recommended teacher-to-student ratio of 1:3. Systematic intensive work in phonemic awareness, letters, and phonics.
LLI Intermediate systems 18–24 weeks of explicit, direct instruction 45-minutes a day, 5 days a week. Recommended teacher-to-student ratio of 1:4. 36 Novel Study lesson for sustained reading of longer texts. 24 Optional Test Prep lessons.
LLI Upper Grade systems 18–24+ weeks of explicit, direct instruction 45-minutes a day, 5 days a week. Recommended teacher-to-student ratio of 1:4. 36 Novel Study lesson for sustained reading of longer texts. 24 Optional Test Prep lessons.
What are the key features of the LLI lessons?
Lessons across the six systems progress from level A (beginning reading in kindergarten) through level W on the F&P Text Level Gradient™, which represents competencies at the middle and secondary school level. While a specific grade level is recommended for each LLI System, you may choose to use a particular system with students in the higher grades if those students would benefit from literacy intervention at the designated levels.
Each level within LLI provides:
A combination of reading, writing, and phonics/word study
Emphasis on teaching for comprehending strategies
Explicit attention to genre and to the features of fiction and nonfiction texts
Special attention to the disciplinary reading, literature inquiry, and writing about reading
Specific work on sounds, letters, and words in activities designed to help students notice the details of written language and learn how words "work"
Close reading opportunities
Help for students in expanding their vocabularies
Explicit teaching for fluent and phrased reading
Opportunities to write about reading to learn a variety of writing strategies
Built-in level-by-level descriptions and competencies from The Fountas & Pinnell Literacy Continuum, PreK–8 to monitor student progress and guide teaching
Communication tools for informing parents about what children are learning and how they can support them at home
Online resources for assessment, record keeping, lesson instruction, and home-to-school connections.
What are the main differences between the Primary, Intermediate, and Upper Grade systems?
There are several differences as the Red System is the first in the series of LLI systems designed specifically for intermediate, middle-level, and secondary-level students. You may want to read the research foundation paper, LLI Research Base Summary, Grades 3-5+. The Red, Gold, and Purple systems are built on a foundation of research related to preadolescent and adolescent literacy that is reflected in the design of the lessons. Each color in the system is designed to provide high-interest books for the grade level. The books in the Red and Gold System are designed to appeal to students in grades 3 and 4. The books in the Purple System are designed to appeal to middle and high school students. Compared to the Orange, Green, and Blue systems, you will find a higher ratio of nonfiction texts (60%), and many are longer with additional nonfiction text features. The Red, Gold, and Purple System lessons are designed for daily 45-minute instruction and include a variety of instructional procedures that differ from the other systems. In addition, there is a novel study sequence at the end of every level with a four-lesson optional test preparation sequence in the intermediate and upper grade systems. We believe you will find that the Red, Gold, and Purple systems increase the intensity of the instruction to meet the needs of students who may have been struggling with reading for a longer time and at the same time are challenged by higher-level text demands.
What funding options may be available for purchasing the Fountas & Pinnell Leveled Literacy Intervention System?
Title I (both parts--regular and Reading First)
Title III
Title V
Optional Extended Day Programs
Summer School Funds
Accelerated Reading Instruction (ARI - Texas)
Dyslexia funds
Other state intervention funding
Early intervention funds - state and national
How does LLI relate to guided reading?
LLI is intended to be supplementary instruction. That means that the power of the system is in the extra, intensive help students get in addition to good classroom teaching. Some of the classroom teachers have had successful results using LLI for a short time with their lowest-achieving readers. These students also had guided reading with their peers at least three times per week.
LLI is not the same as guided reading. LLI is a more intensive framework of components designed to support the accelerated progress of low-achieving students. It is highly systematic and sequential. The books are designed to build on one another. Although word work is provided in guided reading, LLI provides more intensive and longer work in phonics and word study. Most students do not need such an intensive approach.
Since the LLI Green System covers levels A–J, can I just use it for both my kindergarten and first grade children instead of purchasing the Orange System just for kindergarten?
We do not recommend that. The LLI Orange System is specifically designed to help kindergarten children who are having difficulty in the beginning phases of learning to read and to prevent further difficulties by establishing a strong foundation in early literacy.
The Orange System provides three levels of instruction, with multiple weeks of lessons at each level A–C. It includes 70 carefully leveled books and 70 lessons specifically designed to match the trajectory needed by the kindergarten child. These original, high-quality leveled books feature topics, illustrations, and storylines that provide strong support in the beginning phases of learning to read.
After the first 10 days of "Getting Started" lessons, which include shared reading at levels A through C, children will read books and have systematic phonics lessons over a period of 20 days for level A, 20 days for level B, and 20 days for level C.
Can a student continue in LLI if she has not made the progress we'd like in the suggested weeks?
You would want to do a careful progress monitoring to be sure that LLI is being implemented as designed and the student is making progress throughout the intervention. In the case where there is no progress or extremely slow progress, you may want a thorough assessment of the student's learning needs by a psychologist. If the team then decides that LLI is the best intervention, you may decide the student should continue for a longer period of time.
Can I teach LLI lessons in the classroom?
The LLI lesson materials are portable enough that you can move from classroom to classroom to work with small groups. Work with the classroom teacher to find a small space that is far enough away from the guided reading table so that the two groups will not interfere with each other. Be sure you have a table and an easel. Working in the classroom is very efficient because students will have very little transition time.
Do I have to complete all of the lessons within each level?
No, but be cautious. Look at The Literacy Continuum for the specific level to be sure the students control most of the behaviors. If your readers are finding the books very easy and in your judgment they understand the phonics and word work principles and demonstrate the behaviors from The Literacy Continuum, you can skip to the next level. Remember that older students can often read with high accuracy but demonstrate low comprehension. Look carefully at the Beyond and About sections.
Sometimes teachers spend a lesson doing a "read in" just to experience all the good books on the level – or they send the books back to the classroom for students to read independently. If you choose this option, be sure that the books are within the independent range.
How can I make the schedule work when there are so many conflicts?
A meeting of all the teachers at the grade level can be very helpful. Classroom teachers want students to have extra help but also have to consider all the demands on their time. Review the schedule and go over the different groups you are trying to convene.
Do all students need to finish the intervention at the same time?
No. If one student is clearly making accelerated progress, you or the classroom teacher can assess him and move him into a higher group at any time or out of the intervention, if appropriate. If a child needs more time in the intervention, have him join another group. It is all right for him to reread, talk about, and write about some of the books in the collection. You can also "borrow" books and lessons from a parallel strand to provide new texts at a level. Remember, there are no repetitions of books or lessons across the six systems.
Can a student who is labeled a special education student for reading participate in LLI?
It depends on what services the district provides under the label of "special education." If the educational specifications parallel the specific teaching opportunities provided in LLI, then it is an option.
Should I use LLI with all my students?
LLI was designed to supplement the instruction that students receive in the classroom. Using LLI with all students (as designed) would take a great deal of time. Most students do not need such a structured approach, and teachers prefer more decision making in sequencing texts. Also, LLI does not provide enough lessons for daily small-group instruction across an entire year.
How do you decide to group students who are at the same reading level but have different needs?
This will inevitably happen because students will have slightly different needs. But you are working to place small groups of students together for whom a particular reading level is appropriate. If that is true, then you can begin with lessons and books on a level. You can fine-tune your interactions with them during the lesson to account for their different needs. Most of the time, however, students have multiple needs, and those will change from week to week. As with all teaching, observation is key.
How much can I vary the lessons (depart from the specific instructions)?
We encourage you to adjust the lesson in any way justified by information from your ongoing assessment and observation of learners' strengths and needs. No lesson plan can be written to fit all students. It would not make sense to consistently eliminate lesson components or to drastically slow down instruction, but you will find yourself tailoring lessons to meet the precise needs of the students you teach. The best way to tailor lessons is through facilitative language.
If you did not find an answer to your question in these Frequently Asked Questions, please call or email to ask your question to Fountas and Pinnell-endorsed Consultants.