Factors Related to Text Difficulty - Chart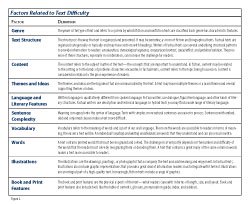 This document defines the ten text characteristics from The Fountas & Pinnell Literacy Continuum, which are the main factors related to text difficulty. Studying the text characteristics of books at a given level will provide a good inventory of the challenges readers will meet across that level. These ten text factors are important to consider when selecting texts for any kind of reading instruction.

The full version of this resource requires registration.