Literacy Beginnings, 3rd Edition Sample Chapter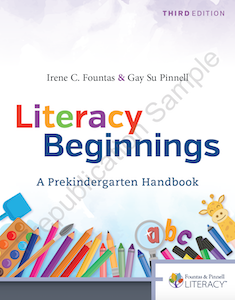 In Literacy Beginnings, Third Edition, Irene C. Fountas and Gay Su Pinnell bring a refreshed perspective along with their characteristically rich, comprehensive, and practical insights to the frontier of early literacy. Now grounded in research and their own extensive experience in prekindergarten classrooms they demonstrate how to:
Create a classroom community that is play-based, and prepares children for the literacy-rich world in which they live
Promote constructive learning through inquiry
Recognize the language and literacy behaviors and understandings that are appropriate instructional goals for preschoolers
Use powerful and playful ways to guide children to learn about letters, sounds, and words
Support emergent readers and writers through an array of literacy activities.
This comprehensive volume, now with refreshed content and a four-color design, is full of practical resources like familiar children's songs, rhymes, and poems and related activities; theme-based text sets and book lists; inquiry projects; and thirty-five simple, generative lessons that support children in their discovery and exploration of language, reading, and writing. It also includes the prekindergarten continuum, which describes the trajectory of literacy learning and development of competencies for these young, emerging readers and writers.

The full version of this resource requires registration.