Systems of Strategic Action Webinar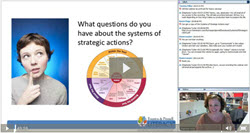 Watch a recording of our webinar "Effective Readers: What Do They Do?—The 12 Systems of Strategic Action". In it national Fountas & Pinnell consultant, Chrisie Moritz, provides a foundational look at the core processes that enable readers to construct meaning rapidly and efficiently. She shows how these processes are reflected in Fountas and Pinnell's Benchmark Assessment System, their Prompting Guides, and other resources.

The full version of this resource requires registration.