LLI K-5 Webinar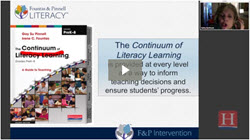 Hear from Fountas and Pinnell trained Consultant, Dr. Kathy Northcutt, in this prerecorded informational webinar: Teaching Struggling Readers, Grades K–5. This webinar discusses the research and statistics facing teachers of elementary school struggling readers.
Kathy provides a 30-minute presentation followed by a 15-minute Q&A that examines the following three concerns teachers of struggling readers in Kindergarten through grade 5 have:
Increasing comprehension
Exploring how writing about reading supports students' acceleration
Getting students to grade level proficiency with Fountas & Pinnell Leveled Literacy Intervention

The full version of this resource requires registration.