When Readers Struggle Study Guide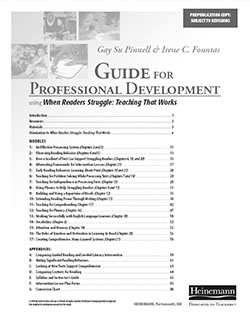 This guide provides suggestions for a series of professional development sessions for instructors, staff developers, literacy coaches, and study groups based on When Readers Struggle: Teaching That Works. When Readers Struggle provides detailed information about instructional practices that can help struggling readers become successful. The book focuses on grades K through 3, but will also be helpful to teachers working with older students who are reading far below grade level.
The guide contains 17 modules which cover the 21 chapters in the book and vary in length from one to two and a half hours. The modules may be used separately or combined into a series of study sessions or all-day seminars.
The guide also includes several useful appendices, one of which provides a formal syllabus and instructor's guide for using When Readers Struggle as the basis of a 15 week university course.

The full version of this resource requires registration.