Select Brochure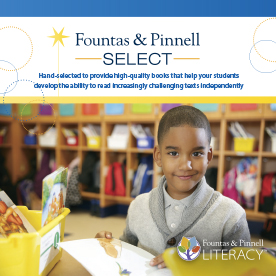 This brochure introduces Fountas & Pinnell SELECT with an overview of the K-3 collections and Fiction/Nonfiction genre sets, and examples of books included in each.
F&P SELECT Collections and Genre Sets offer...
Books to use for guided, independent, and take-home reading.
Opportunities to read and reread closely, to think, discuss, and deepen comprehension.
Fluency practice with increasingly more challenging texts.
Expansion of academic vocabulary and disciplinary knowledge.
Expanded language knowledge for English language learners.