Continuo de la lectoescritura Sample Chapter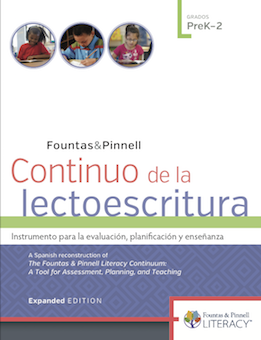 Download this sampler to rediscover Fountas & Pinnell's classic Spanish resource in a NEW Expanded Edition.
(Re)Discover Continuo de la lectoescritura, Expanded Edition © 2019 for Grados PreK–2 to:
elevate your language and literacy expertise
develop an understanding of the demands of texts on readers
build your understanding of the reading and writing process and how it changes over time
hone your observation of students' literacy behaviors
teach toward student integration of the Systems of Strategic Actions
articulate the literacy curriculum within and across grade levels
activate the responsive teaching that meets students where they are and brings them forward with intention and precision
build professional learning opportunities with colleagues
create a common vision and common language for literacy in your school.

The full version of this resource requires registration.