Most Recent Post
*Effective reading instruction involves a combination of powerful instructional settings. This post is the next in our "What is...?" series, where we define each instructional context that makes up a coherent literacy system.

Featured Resource
Fountas & Pinnell Classroom™ Webinar: Put Phonics, Spelling, and Word Study Into Action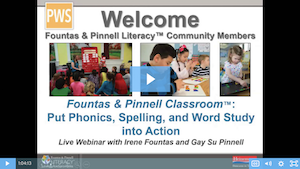 For independent reading, students learn how to select books for themselves that interest them and that they can read with understanding and fluency.