Most Recent Post
An increase in student achievement, rich teacher experiences, and an engaged culture of literate, curious students.
During the 2018-2019 school year, Midway Independent School District (ISD) piloted Fountas & Pinnell Classroom™ (FPC) for their third-grade literacy instruction in two of their six elementary schools....Read more »

Remote Resources
Tools for Remote Learning from Fountas & Pinnell Literacy™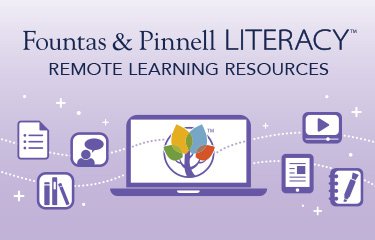 View these resources on the
Remote Learning
page, and bookmark it for daily tips, remote learning options for products like
LLI
, and news from Irene Fountas and Gay Su Pinnell.
Play Problem-Solving Games


Challenge the child create a way to walk around the room (or an area of the room that is safe) without touching the ground. Have them brainstorm ideas, such as stepping on pillows or the rug, or laying blocks or other materials on the floor. Alternatively, have the child build the tallest building they can in one or two minutes - this should be a lesson in how to build fast while also sturdy. You can use blocks and other materials from the building center. Be sure that the child understand that the building needs to stand independently. Afterward, discuss some of the different strategies the child used, what worked well, and how working together helped.