More Fountas and Pinnell Resources
Fountas & Pinnell Online Resources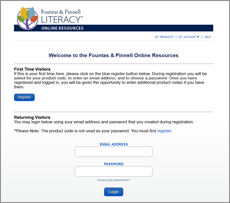 The Fountas & Pinnell Online Resources site is a repository of resources that support the various products in the Fountas & Pinnell Literacy™ portfolio. Access to this site is included with the purchase of an applicable Fountas & Pinnell Literacy™ resource. The use of these materials will save you valuable preparation time.
Leveled Books Website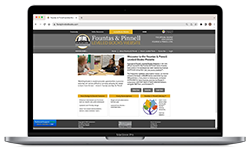 The Fountas & Pinnell Leveled Books Website is the only official online source for titles leveled according to the F&P Text Level Gradient™. With over 50,000 titles and growing, each title has been analyzed and precisely leveled by Fountas and Pinnell and their team of expert levelers. This subscription-based website is searchable by key information such as title, author, publisher, F&P text level, genre, word count, and keywords.
Online Data Management System (ODMS)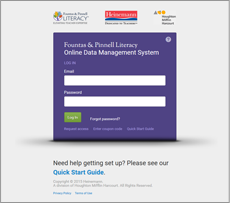 The Online Data Management System is a secure and efficient way for teachers and administrators to manage assessment data. Features include collecting, analyzing, and reporting data at the individual and class level; monitoring progress of instructional and independent reading levels; and customizing reports to meet class, school and district needs. A one-year subscription is included with the purchase of each LLI, BAS, and SEL System.