Phonics, Spelling, and Word Study Systems Research

Research Base for the NEW Phonics, Spelling, and Word Study System is Coming Soon!
Research Base: Phonics, Spelling and Word Study Systems
Phonics, Spelling, and Word Study Systems are grounded in a wide base of academic research, including all the areas examined by The National Reading Panel, and reflect its recommendations for phonemic awareness, phonics, fluency, vocabulary, and comprehension. In addition, the lessons reflect practical, classroom-based research in how children learn, practices that have been reconfirmed by many teachers as they have field-tested Phonics Lessons and Word Study.
Review Phonics Lessons: The Research Base »
Phonics Lessons Research Base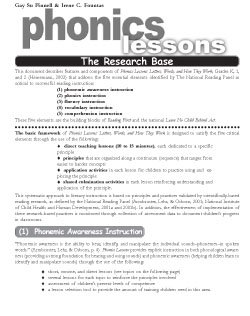 This document describes features and components of Phonics Lessons: Letters, Words, and How They Work, Grades K, 1, and 2 that address the five essential elements identified by The National Reading Panel as critical to successful reading instruction:
(1) phonemic awareness instruction
(2) phonics instruction
(3) fluency instruction
(4) vocabulary instruction
(5) comprehension instruction
These five elements are the building blocks of Reading First and the national Leave No Child Behind Act.